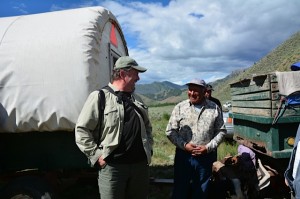 Its been an eventful week for Western Wildlife Outreach. We attended the annual meeting of the Interagency Grizzly Bear Committee in Dubois, Wyoming. Our new WWO Bear Safety Brochure debuted there, and won wide approval. You will see it distributed at a wide number of locations across the West beginning this summer/fall.
We also benefitted from the sharing of approaches for bear awareness and outreach/education with other NGOs and government wildlife managing agencies. The State of Wyoming and their partners have done some really innovative projects with small communities such as converting old horse trailers into garbage conveyance trailers for neighborhoods where other "bear aware" approaches to keeping garbage away from bears would not be cost effective.
The good news for bears and their allies in Washington State is that funding is falling into line so that the National Park Service and the U.S. Fish and Wildlife Service will be able to initiate the NEPA process for preparing an Environmental Impact Statement to address options for Grizzly Bear Recovery in the North Cascades Ecosystem beginning as early as 2014. With perhaps fewer than 20 Grizzly bears remaining in Washington's North Cascades, the effort cannot happen too soon.
From Dubois, Wyoming we headed back to Ketchum, Idaho, to join up with colleagues working on livestock and wolf conflict avoidance in Idaho and Washington at a two-day training session sponsored by Defenders of Wildlife who have been true pioneers in this field, winning praise from livestock producers, elected officials and wildlife managers alike. It was a "hands on" training session and we visited some beautiful sheep and cattle producing operations where we practiced setting up temporary fladry fencing, and participated in RAG box demonstrations. RAG boxes are noise and light motion-activated wolf deterrent devices that are installed along a fence or fladry line. They are carefully placed to detect wolves if they approach the enclosure, and when activated, make very loud, disturbing noises accompanied by strobe lights. When property employed, wolves are dissuaded from venturing near livestock.
Blaine County, Idaho is a unique region of the State where many residents strongly support carnivore and human coexistence It is also home to the Wood River Wolf Project, where Defenders of Wildlife have worked with local sheep producers and herders to implement conflict avoidance techniques that have resulted in zero sheep losses to wolves in an area where wolves regularly den and have their rendezvous sites. The long-time herder from Peru works with two herding dogs, a livestock guard dog and an extremely well-trained horse. He moves the sheep herd up and down slope each day so that the sheep can access water, but avoid damage to sensitive stream environments. For much of the year, he lives out on the range with the sheep in a sheep herder's wagon. At this point, with the active support of Blaine County elected officials, every sheep producer in the County is enrolled in the Wood River Project and actively use carnivore conflict avoidance measures. Cattle producers in Blaine County are getting on board now as well.
Such techniques are new to Washington State and just beginning to catch on with ranchers in certain areas where wolves are returning to the landscape. Over the next 12 months and beyond, Western Wildlife Outreach will be partnering with the Department of Fish and Wildlife, Washington State University Extension, Washington Cattlemen's Association and other NGOs to create a far-reaching program of information, education and technical assistance regarding the proper selection and implementation of a wide variety of effective carnivore conflict avoidance measures such as those used by the Wood River Wolf Project. Carnivore and livestock conflict avoidance practices when done properly are better for the producers' bottom line, better for the livestock, better for the carnivores. We all win!