Support Our Work
Western Wildlife Outreach is committed to making science and research more available to the public in order to protect our wildlife heritage. Help us continue to provide science-based education about large carnivores, including grizzly bears, black bears, cougars, and wolves, by donating today. Your donation is immediately put to work to educate about large carnivores now and for future generations.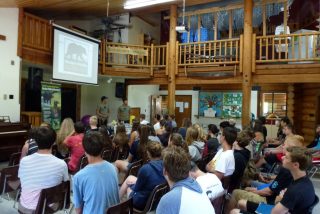 Contribute by check payable to:
Western Wildlife Outreach
900 Jefferson Street SE #6413
Olympia, WA 98507
Contribute or Pay Online Using A Credit Card
Support us by Doing your Amazon Shopping through AmazonSmile
Sign Up to Volunteer
Since 2002, Western Wildlife Outreach has been a strong presence in large carnivore education:
We gauge the knowledge and opinions of people who live, work, and recreate in grizzly bear, black bear, wolf, and cougar country and emphasize safety, behavior, and species recovery.
We provide on-the-ground presence of staff that builds real, trusting relationships with community members.
We strive to reduce opposition to large carnivore recovery that is based on incorrect information and unwarranted fears by sharing the most current, scientifically accurate information that informs rather than alienate audiences.
We provide opportunities for people to express their thoughts about carnivores and their recovery, and facilitate the creation of community groups and local events that build trust, pride, and cooperation in order to meet the needs of wildlife and humans.
We educate people about how to minimize the potential for harmful encounters with carnivores that result in human injury or wildlife mortality.
We build partnerships with national and state agencies and non-governmental organizations, and provide them with effective public education and communications in the form of presentations, printed materials, the web, and social media.
We sponsor workshops and classroom projects where students can personally experience the work of field scientists working with carnivores.
Thank you for helping us continue our work.