Who We Are and What We Do
Western Wildlife Outreach got its start as the "Grizzly Bear Outreach Project", an independent science-based, non-advocacy, community education project  in the North Cascades of Washington State in 2002.  From there our work  expanded to the Selkirk Ecosystem of northeastern Washington and Northwestern Idaho. These two areas were identified by scientists working to implement the Endangered Species Act as having the best chance for recovering grizzly bear populations in Washington. 

Today Western Wildlife Outreach has expanded our focus to include maintaining healthy populations of other large carnivores, namely black bears, cougars and gray wolves throughout Washington State and the Northwest in response to the needs of the communities we serve. The information we share is science-based and factual, and allows people to gain a clearer understanding of these elusive creatures.
We provide information about bear, wolf, and cougar ecology, behavior, safety, and recovery of wolves and grizzly bears under the Endangered Species Act to individuals and groups. We also work hard to understand what people know and feel about these animals, and we partner with government agencies, non-government organizations, and the public to create wildlife-safe communities.
The purpose of Western Wildlife Outreach is to provide:
Accurate information about grizzly bear, black bear, wolf, and cougar ecology, biology, and behavior, as well as grizzly bear and wolf recovery processes, in accordance with State and Federal requirements under the Endangered Species Act.
Education on how local residents can safely co-exist with wildlife.
Opportunities for people who live in or near  areas affected by recovering carnivore populations to express their ideas, opinions, and concerns.
Western Wildlife Outreach can offer: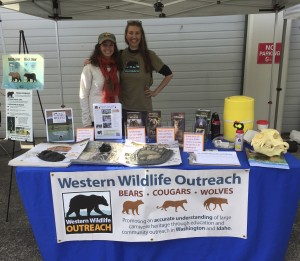 Presentations to community groups on grizzly bears, black bears, wolves, and cougars.  We can help people understand the Endangered Species Act and the wolf and grizzly bear recovery process, as well as  how to live and recreate safely in areas where these animals are present.
Informal community gatherings to discuss topics related to bears, wolves, and cougars.
Opportunities for recognizing individuals and businesses that take steps to make their home and community wildlife safe.
Products such as brochures, posters, and fact sheets for you to distribute to friends and family, or through your businesses help with our fundraising efforts.
WWO can provide the NW Bear education Trailer to events in your community.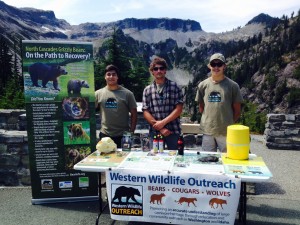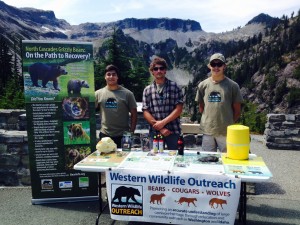 More GBOP information:
A list of our sponsors
We welcome your ideas. Please give us your feedback
What others are saying about WWO/GBOP:
"The GBOP method of engaging the people one on one who live within grizzly bear habitat is invaluable. It is the antidote to the misinformation and myth surrounding this animal and the process for its recovery. And, most importantly, this approach is exportable. It's not limited to one area or one animal".
Joe Scott, Director, International Conservation, Northwest Ecosystem Alliance
"I find the Grizzly Bear Outreach Project to be among the most progressive, and necessary, efforts going for grizzly bear recovery".
Skipp Ladd, Asst. Regional Director, Natural Resources & Sciences, Intermountain Region, National Park Service and Interagency Grizzly Bear Committee Chair, December 2002.
"This is a really important project- sharing information about grizzly bears and recovery with local people is critical".
Business owner, Whatcom County, WA
"People with differing opinions are often really not all that different- there can be a lot in common-sitting down to talk through projects like this is certainly a good first step".
Cattle rancher, Whatcom County, WA
"Keep up the good work".
Business owner, Skagit County, WA
"I won't ever be a strong supporter of grizzly bear recovery, but I do appreciate you taking the time to come talk to me".
Guide-outfitter, Okanogon County, WA
"We have infringed on the grizzly bear's habitat- we need to learn how to live with them".
Hiker, Skagit County, WA
Comments from WWO/GBOP audience members:
"Absolutely excellent-concise and fair".
"Very inspirational- I will use the web to learn more".
"Great questions and answers, and a healthy perspective".
"What a great example of taking a topic and doing a great job of public education."