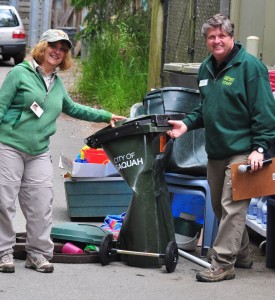 Every year, the Grizzly Bear Outreach Project teams up with Woodland Park Zoo to stage an event that is not only fun for bears and people, but helps to demonstrate some things NOT to do if you live and recreate in bear country. Zoo staff arranged the aftermath of a children's birthday party with left-over pizza boxes and remnant birthday cake, and of course a few hotdogs strewn around. Keema and Denali, the zoo's two 700+ pound grizzly bears, were allowed to arrive on the scene as if the human participants had all gone back inside the house and left the goodies, now available to foraging bears. 
Lorna Smith, Executive Director of GBOP, and her wildlife biologist husband Darrell Smith who volunteers for GBOP, were on hand to narrate the bear's behavior for a fascinated audience. GBOP also had lots of visitors to their display table in the bear grotto where free "bear safety" and bear natural history information was handed out to the public. 
Ray Robertson, GBOP Field Representative and wolf expert also had a display table adjacent to the wolf enclosure. He shared some very exciting footage of Washington wolf pups, the first to be seen in the region in nearly 100 years. Thanks also to volunteers Mandy and Alan Shankle for a very professional job at the GBOP information table!