Washington Department of Fish and Wildlife's First Karelian Bear Dog has Passed… This Is His Story.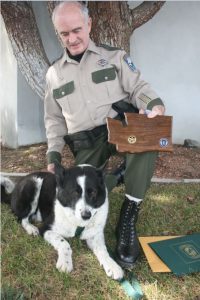 Bruce Richards and Mishka Upon Their Retirement in 2015
In Bruce's own words:
On December 27th, the old black and white KBD Mishka passed away lying beside my bed as I slept. I never heard a sound that night, so whatever peacefully passing is, I believe Mishka experienced it. I guess as far as leaving a legacy, he left one that few animals could surpass. He was the first KBD in the United States to work with a Fish/Wildlife Officer, he basically started the first real dog program in the WDFW, and along with the other Washington KBD's was seen throughout the US and other countries on TV by millions of viewers. For whatever reason, I was glad that Mishka and Cash passed in the same year. It just felt right. Biologist Rocky Spencer, Officer Mike Krenz, and I basically started the first cougar research in the State, and we found the one major missing ingredient was dogs on hand. I started using a yellow lab, and then Rocky brought in Mishka as a puppy. The two dogs worked a number of cougar and bear together, and then Rocky started using Mishka to work different aspects of a cougar project. Rocky was killed net-gunning bighorn sheep (for research) in the Yakima Canyon in 2007, and Mishka was assigned to me, to work a pilot program for a year to see if the dogs could be useful as an enforcement tool. I already knew the answer, having watched canines in combat and enforcement, so my wife and I took on the life of Mishka, the black and white Tasmanian devil.
At the risk of boring everyone, I would enjoy telling some "Mishka" stories….
The year that Rocky died, and the dog came to me, I heard talk about a big bull elk poached in the Olympic National Park through WDFW Officer Brian Alexander. Brian had hiked into the national park with several park rangers several times to try to find evidence to convict their suspect. I told Brian that I'd walk into the park with him with Mishka, because Rocky and Brian Kertson had used him to find winter cougar kills (remains of deer, elk, raccoons, etc.) in the summer, and Mish had become good at finding these remains. Because of snow, we would have to go into the Park the next summer, 11 months after the elk had been poached. I was told the Olympic NPS had done grid searches the year before, 600 man-hours, and never found any elk remains, so as we finally arrived at the ridge top and I put the dog's working harness on, I was not confident at all about finding anything. The Park ranger, Brian, and I all split up to work the downward slope of a very steep knife-ridge, and I was even more discouraged as I observed the incredibly rough country we were searching. After only 15 minutes, I looked up to see Mishka digging through some winter debris on a rocky slope, when suddenly the dog reached down, grabbed something with his teeth, and then purposely ran down past me to show off. As he went by me, I was sure I saw the neck bone of an elk. I yelled for Brian and told him "I think Mishka just ran by me with an elk bone". I scrambled up to that spot, dug down myself, and found two more pieces of neck bone, all bleach white, one having been cut through with a saw. Brian later commented to me that "his heart leapt from his chest" hearing about the bone. I guessed he was tired of walking into this very tough country with no results. Brian later found a small bone and called the dog over to check the bone out. Mishka basically ignored him, went down below him several yards, dug down through about 2 feet of winter debris, and came up with another neck piece of the elk with connective tissue…. Got our DNA match! The case was adjudicated in Federal court with a guilty verdict.
I believe the greatest benefit of the dogs was the ability to bring people, especially children, to learn about wildlife and game wardens/biologists. Everywhere we went with the dogs brought people to come and see or learn about the dogs/wildlife. Like KBD Cash, Mishka found orphaned bear cubs and cougar kittens, worked with wildlife biologists on bear/cougar research, and helped bring wildlife violators to justice. Mishka and I attended hundreds of events, and through these events probably interacted with over 10,000 people directly, hopefully bringing Washington wildlife into these folks' lives in a positive and exciting fashion. It would be hard to guess how many children he touched, but at one event alone, 3,000 kids got to get a feel for what the Karelians are and what they do. One story, however, I believe made Mishka's life remarkable and totally valuable. I was giving little presentations to people going by a department booth at the Puyallup Fair the year after Rocky died. I had the dog up on a table, and was shamelessly bragging about some of the things he had done, when I half-noticed a small little boy standing at attention off to the side staring at the dog. As I continued talking, the little fellow kept coming to my attention, because he was entranced with the dog. As everyone moved off, the little guy was still there, staring at the dog. It finally dawned on me that this little boy had figured out that he was looking at the greatest dog on earth, and that this dog was the "Michael Jordan" of the dog world. I asked him if he wanted to come over and give Mishka a pat, and his smile exploded from his face. He looked up at his mother to see if it was 'alright'! She then asked me if it was okay, and I told her, "absolutely!" He started moving toward the dog, and I finally realized why he was standing so still. His entire body was attached to wire braces, having been afflicted with spina bifida. The only part of his body that was not held by braces was his head, and he shifted his legs one at a time to move up to the dog, taking several minutes. When he got up to Mishka, he reached out his little arms and tried as best he could to give him a hug, which the dog accepted without moving. As he stood there hugging the dog, his smile was as big as his face. I asked him, "Would you like to take Mishka for a walk?" He didn't say anything, but looked up at his mother with some monstrously big eyes, and his mother looked at me and said, "Really, would that be possible!!!" I told her, "Absolutely, the dog loves children". I told her the dog may pull a little, so be very aware of that!!" I handed him the leash, and told him to tell Mishka, "Come". And off they went with the mother walking just behind. The smile…. the smile was as large as the table the dog was sitting on earlier, and as he slid each foot forward, the smile grew with each movement. It took about ten minutes for him to walk around some tables, but he made his way finally back to me, where he relinquished the leash. As I watched, it was evident that the small journey was quite a task for the little guy, but the smile never wavered. They left and I kind of got caught up in some other stuff, when a half hour later the mother of the boy approached me again. She grabbed my arm and said, "I just wanted you to know, and it took me some time to get my son back to our car, but those ten minutes with your dog were probably the best ten minutes my little boy has ever had in his life. I cannot begin to tell you what it meant to see him moving with your dog, and that your dog never once tried to move away from him as they walked together. His smile!! The best ten minutes of his life!!" With tears in her eyes, she disappeared. I sat down and had to relive the event. I came to the realization that I had just witnessed a "Make-a-wish", and that everything the 'black and white' would ever do, would pale in comparison to those few minutes with a tiny little boy encased in metal.
Thank you all for your support of the KBD program. It was truly an honor for both my wife and I to be a part of what I consider one of the most innovative programs brought to WDFW since I was hired in 1974. Though there were many frustrating moments working with Mishka and the other KBD's, the great memories were worth every second.
Jane/Bruce