WDFW NEWS RELEASE
Washington Department of Fish and Wildlife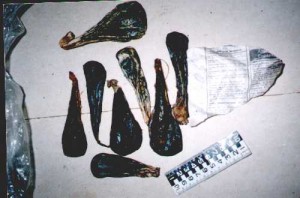 OLYMPIA – Investigations by Washington Department of Fish and Wildlife (WDFW) detectives into illegal trafficking in bear gall bladders have resulted in hefty fines for two eastern Washington men and a year-long jail sentence for one of them.
William A. Page, 63, a Curlew meat cutter, was sentenced Dec. 18 in Ferry County Superior Court to a year in jail plus $3,000 in fines after being convicted a month earlier of six counts of unlawful trafficking in wildlife.
Page, of 49 Bjork Ranch Rd. in Curlew, also forfeited $1,600 he paid to undercover WDFW officers for the gall bladders.
Mike Cenci, WDFW deputy chief of enforcement, said Page admitted to buying 35 gall bladders in 2007 and 2008, including 17 he purchased from undercover officers during the course of the department's investigation.
Some people believe bear gall bladders have healing powers, Cenci said. He noted that black market prices for galls can range between $100 to thousands of dollars, depending on whether the sales take place locally or overseas.
"Buying or selling bear gall bladders is a crime in this state, because it creates an increased demand for wildlife and their body parts," Cenci said. "That can threaten the long-term sustainability of populations that can't withstand commercialization."
In a separate case, the Spokane County Superior Court fined the owner of a Spokane food market $1,000 on Dec. 22 for two felony convictions of illegally trafficking in wildlife.
A Spokane jury found Jason Yon, 51, owner of JAX Market on East Mission Street, guilty of purchasing four bear gall bladders from WDFW officers during an undercover investigation in 2008. In addition to the fine, Yon forfeited $800 he paid to buy the gall bladders.
Cenci said WDFW relies heavily on tips from hunters and people in local communities about illegal wildlife-trafficking operations. He asks that people who believe they have witnessed these crimes call WDFW Enforcement at (360) 902-2936.