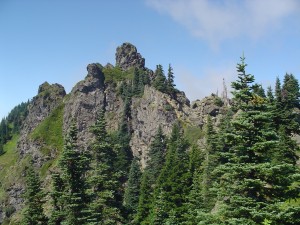 A tragic thing happened in August of 2008 when black bear hunting season opened at the same time that the alpine meadow flowers were blooming on one of the most popular hiking destinations in Skagit County, Sauk Mountain. A young hunter mistook a hiker for a black bear, leaving her dead.
August is when bear season opens in Western Washington and it is also when a lot of recreationists step outside to enjoy the beauty of the North Cascades. Most of our public land are considered 'multiple use', so in addition to being Bear Aware, we need to remember to be aware of our fellow recreationalists.
Hikers, take the time to find out if your destination is in a designated hunting area and if hunting season is open. Wear bright colors and always travel in groups. Hunters, know your hunting areas; is it also a popular hiking area? Utilize the tools from your hunter safety course and always
know your target: when in doubt, don't shoot.  Be aware of fellow hunters
and hikers in the area and when hunting in grizzly bear country, know the
difference between a black bear (for which you can buy a tag) and a grizzly
bear (which, as an threatened species, is illegal to kill).
Please visit https://westernwildlife.org/grizzlies/bear-identification/ for more
information about how to identify grizzly bear vs. black bear.  Visit
https://westernwildlife.org/grizzlies/tips-for-coexistence/ for more information on
hunting and hiking safely in bear country.