[toc class="toc-right"]
Wolf Tracks
Track Comparison
Because wolves are elusive and are rarely seen, finding their tracks can be an exciting experience. The charts and information below illustrate some of the characteristics that distinguish wolf tracks from those of their close relatives, coyotes and domestic dogs. Each species has four symmetrical toes on the front and hind feet, with the front track slightly longer and broader than the hind. Claw marks are usually evident and the front of a wolf's foot pad is single-lobed. The differences are not always clear so look for a combination of characteristics before coming to a conclusion.
Relative track size differences in wolves, domestic dogs, and coyotes: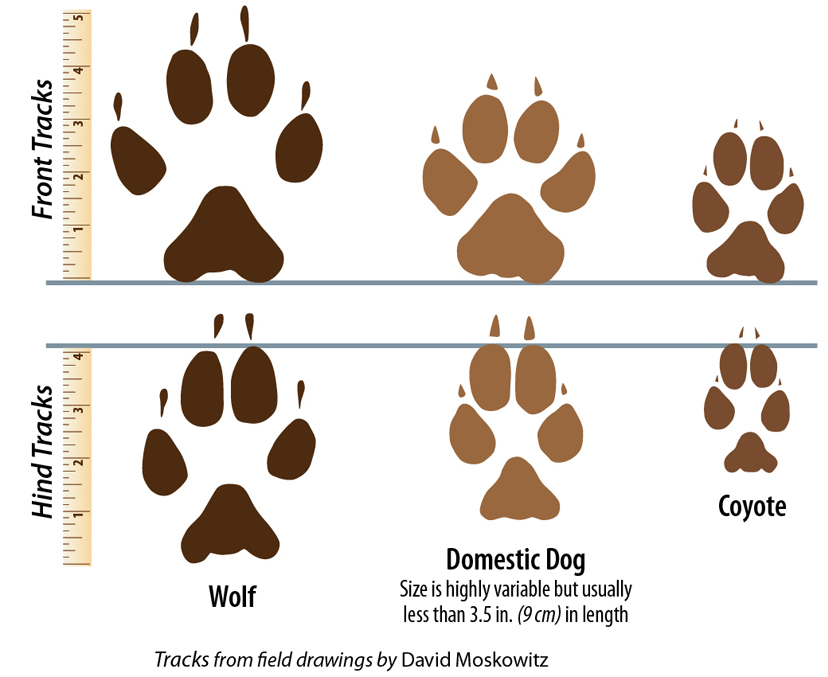 Track size measurements (NOT including claw marks):

Wolves Compared to Coyotes
Adult wolf tracks are larger and more robust than adult coyote tracks. Young wolves' feet grow large very quickly, and by the time they are about three months old (around July) even young wolves' tracks are larger than most coyote tracks. Because wolves are much heavier animals than coyotes their tracks will show some spread in their toes, especially on the front track, more often than those of coyotes. In wolves, claws on the front feet are longer than the hind but generally register distinctly in both.
Wolves Compared to Domestic Dogs
Wolf tracks are larger than those of all but the largest breeds of domestic dogs, the genetic descendents of wolves. While many dog tracks can be easily distinguished from wolf tracks, some domestic dogs have tracks that are very similar to wolves, making them indistinguishable in some instances. Use the guidelines below to help in track identification. However, keep in mind that tracks alone cannot distinguish domestic dogs from wild canids with complete certainty.
Toes and Claws
Large dogs often spread their toes with all four toes radiating outward. Spread is less common in wolves and, if it exists, usually only the outer two toes spread. Wolves' front claws are longer and more strongly apparent in tracks than the hind claws, but can appear distinctly in both. The appearance of claws in dog tracks is variable.
Track Size
The front feet of domestic dogs often have a round appearance with the length and width similar in size. Wolves' front feet are often more rectangular in overall shape, longer than wide, unless the outer toes have spread. Track size of domestic dogs is highly variable but most dogs leave tracks that are less than 3.5 in. (9 cm) in length, where wolves' tracks are 3.5 in. (9 cm) and above. Only a few breeds of dogs such as Great Danes, St. Bernard's and Blood Hounds leave tracks longer than 4 inches. The tracks of German Shepherds, Malamutes, Retrievers and Setters are usually less than 4 inches long.
Wolves Compared to Cougars
Cougar tracks are often confused with wolf tracks. Distinguishing features of a mountain lion track are its roundness, the shape of the planter pad (main foot pad) and asymmetry of both the foot and the individual toes.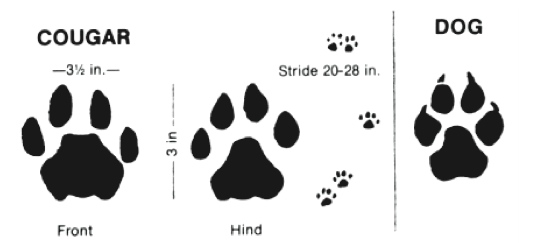 Because cats have retractable claws, mountain lion tracks do not usually show claw marks. This is not always true, however, as cougars sometimes use their claws to increase traction on steep or slippery terrain. Claw marks may also be present if the animal is traveling fast. If claw marks are visible, they will be directly joined to the toe, while the wolf track exhibits a 1/4-inch separation between claw and toe.
Appearance of nearby scats and proximity to people should be considered when large canid tracks are encountered. In some remote areas, large canid tracks may result from the practice of using hounds to hunt mountain lions.
Wolf Scats
Wolves produce scats, or droppings, which are usually composed of hair, bone fragments, and other signs of their carnivorous diet. Coyote scats, often smaller than wolf scats, typically contain small mammal remains, berries, or insects, but there can be some overlap in contents and appearance. Domestic dog scats are generally more uniform in texture and shape without noticeable hair or bone fragments. Never touch scats to avoid contracting parasites.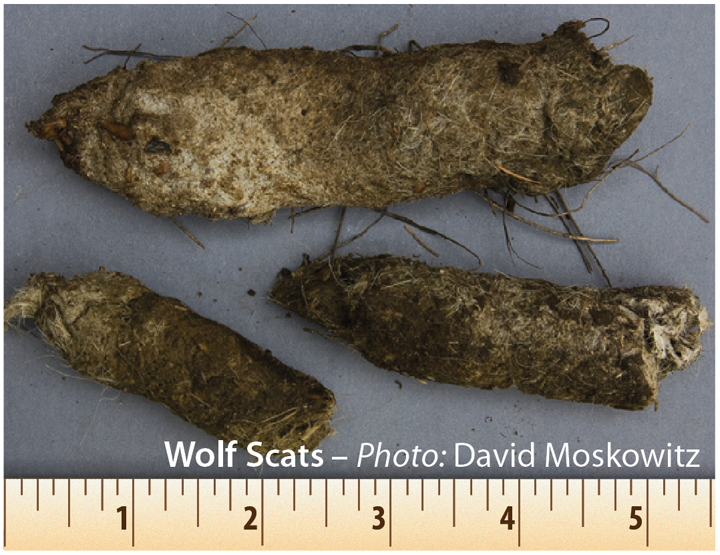 Wolf Scats
long and tubular – often strong in smell
range from 1 to 1.5 inches (2.45-4 cm) in diameter
Coyote Scats
twisted and irregular
range from .5 to 1.25 inches (1.5-3 cm) in diameter
Wolves often prey on large animals such as deer and elk. They have very powerful jaws so look for characteristic feeding signs of bone fragments and cracked bones near a carcass. Wolves as well as scavengers will eventually drag off parts of the carcass. Burying an entire carcass is a practice typical of cougars and occasionally bears, but NOT of wolves. If you find a carcass move away from it – bears may take control of a carcass and can be very aggressive.
Please report suspected wolf and wolf track sightings to the Washington Wolf Reporting Hotline at 1-888-584-9038. 
Washington Department of Fish and Wildlife Poaching Hotline 1-877-933-9847
Visit the Products page to see our Identifying Washington's Wolves brochure.