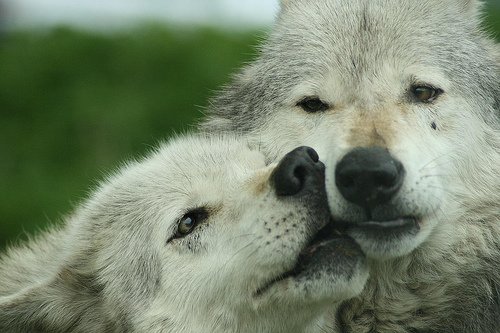 Like the North Cascades Grizzly Bear, gray wolves were once very common in Washington State. But, unlike our resident grizzly bears, of which an estimated less than 20 remain, the gray wolves were completely extirpated from the state by the 1930's. This means that no breeding packs were documented in Washington from the 1930's on.
That is, until the summer of 2008, when a confirmed pack was photographed via a remote camera in the Okanogan. Washington now has two confirmed packs of gray wolves: the Lookout Pack in W. Okanogan and N. Chelan Counties and the Diamond Pack in Pend Oreille County. There are also two possible, but not yet confirmed packs, one in the Salmo-Priest
Wilderness area of Colville and the other in SE WA near the Blue Mountains.
Wolves are returning to Washington from British Columbia and the neighboring states of Idaho and Oregon. In effort to see that these animals are not once again extirpated from their natural land, the Washington Department of Fish and Wildlife is developing a management and recovery plan to address wolf conservation in Washington State.
For more information please visit our wolf page.
Some wolf facts:
• Canis lupus, the gray wolf, is the largest of the canines (55 to 130 pounds).
• Wolves have excellent hearing and super sense of smell. They hunt and socialize in packs.
• According to animal behaviorists, domestic dogs behave a lot like very young wolves.
• Sprawl and development spells loss of habitat for wolves and their prey.
• Overall, the greatest threat to wolves is people's fear and misunderstanding about them.
• As a top carnivore, the gray wolf, along with other predators such as the bear and cougar, control prey populations so that a landscape may support a healthy ecosystem. Wolves play a vital role in maintaining the health of big game by culling sick animals, promoting stable ungulate populations. Biologists tell us that big game herds like bighorn sheep, elk, and deer are healthier with wolves.
In celebration of Wolf Awareness Week there are several events going on across the state:
• Wednesday through Saturday, Oct. 20-23 10am-4pm Wolf Haven is offering tours, Cost: $9 Adult/ $8 Senior/ $7 Child/ Under 3 Free
• Monday, Oct. 25 from 7:30-9pm, Wolves and their Critical Place in Nature, lecture by Cristina Eisenberg at the Seattle Town Hall (**see more information below)
• Also see wolf-themed display cases at these Timberland Regional Libraries throughout October: Lacey, Olympia, Tenino, Tumwater and Yelm.
**Wolves and their Critical Place in Nature, lecture by Cristina Eisenberg
After more than 70 years wolves have returned to the Cascade region. Residents have noticed howls and tracks, and now scientists have confirmation that wolves have reached Washington's Okanogan Country. Now the question is how the return of the wolves will affect local ecosystems.
The reintroduction of wolf denning – and its impact on the Pacific Northwest region – is at the core of scientist Cristina Eisenberg's new book, The Wolf's Tooth: Keystone Predators, Trophic Cascades, and Biodiversity. Eisenberg will speak on Monday, October 25, 2010, at Town Hall Seattle about her book, the role of top predators in regulating ecosystems, and trophic cascades. She will detail her experiences in the field where she has held wolves in her lap to attach radio collars, come face to face with grizzlies, and measured the height and diameter of thousands of Aspen trees.
After having been hunted to near extinction in the lower 48 states, wolves returning to their natural habitat have been greeted with both excitement and concern. As farmers and ranchers grow anxious about livestock losses, others like Eisenberg are hopeful this change will have unprecedented benefits for people and nature. For her, the story isn't just about the wolf and livestock kills. It runs much deeper to the natural order of life and the roles that all creatures play in it.
Eisenberg is not a sentimentalist but a scientist who "listens to landscapes" for the stories they tell. She is a forensic detective piecing together DNA evidence, footprints, and dead carcasses to track the wolf's range. She knows how the wolf operates, what it fears and hunts, and the coming conflict between resurgent wolves and people living and farming in their range. Though tranquility may have its place in nature, she finds that "the ecology of fear" is essential to natural balance: predators like wolves keep animals like deer and elk wary and on the move so that they seldom inflict damage on ecosystems by grazing too heavily in one spot.
Eisenberg believes her work on understanding wolves and trophic cascades can be used to create more resilient, adaptable ecosystems better prepared to deal with inevitable global change. With The Wolf's Tooth, she offers a new way to look at humanity's place in nature and a blueprint for restoring the natural order.
Cristina Eisenberg is a conservation biologist at Oregon State University, College of Forestry, and Boone and Crockett Fellow who studies how wolves affect forest ecosystems throughout the West.
Cristina Eisenberg's lecture is part of the Soundings from Island Press Environmental Thought Leaders Lecture series presented by Island Press through the Town Hall Center for Civic Life. This series is produced in association with IslandWood and Elliott Bay Book Company.
Tickets are $5 at Brown Paper Tickets or 800-838-3006, or at the door. Visit www.islandpress.org for more information.