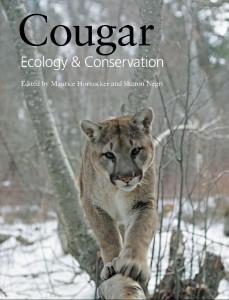 Announcing the release of Cougar Ecology and Conservation edited by Maurice Hornocker and Sharon Negri.
Internationally renowned biologist Maurice Hornocker and long time conservationist Sharon Negri have joined forces to produce Cougar Ecology and Conservation, a seminal go-to resource for scientists, wildlife managers, biologists, conservationists, and anyone who has an interest in large carnivores.
A rare anthology featuring twenty leading scientists from Canada to Patagonia, Cougar Ecology and Conservation is the first comprehensive book that spans the cougars entire range and includes a of topics surrounding this complex animal.
The book's contributors cover a wide range of experience, perspectives and topics. Some of the subjects covered include taxonomy, genetics, history, cougar behavior and social organization, predator-prey relationships, population dynamics, management, human dimensions, the role of government and citizens in conservation, conservation planning, and the future of research.
Cougar Ecology and Conservation contains 304 pages, including 36 color photographs, 70 halftones, 19 line drawings, and 25 tables.
To order the book link to: University of Chicago Press