Get up close and personal with North American bears in Nature's three-part special "Bears of the Last Frontier" narrated and hosted by Chris Morgan, May 8, 15 and 22, 2011 on PBS.
Learn more about Chris Morgan's book that accompanies the PBS series!
Bears are an ultimate icon of the wild, regarded as among the most successful wild animals on the planet. Three of the eight bear species in the world – brown bears, black bears, and polar bears –can be found in Alaska, one of North America's last truly wild frontiers. Nature joins adventurer, bear biologist, and GBOP co-director Chris Morgan on a year-long motorcycle odyssey deep into Alaska's bear country to explore the amazing resiliency and adaptability of these majestic animals as they struggle to make a living in five dramatically diverse Alaskan ecosystems: coastal, urban, mountain, tundra, and pack ice.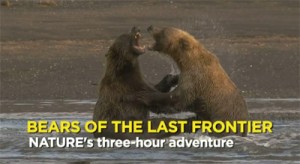 Bears of the Last Frontier, a special three-part series, premieres on three consecutive Sundays, May 8, 15, and 22, 2011 at 8 p.m. on PBS (check local listings).
Talk with GBOP's Co-director Chris Morgan on a Nature Webchat at pbs.org on May 8th from 6-7pm PST (9-10pm EST) and May 15th 9-10 pm PST (12-2pm EST).
[slider title="See more links about bear awareness. "]
Get Bear Smart Society- www.bearsmart.com-
Works to ensure people and bears safely and respectfully coexist wherever their homes and home ranges overlap.
Bear Smart Durango- www.bearsmartdurango.org
Works to reduce human and bear conflict in Durango and the surrounding area, mainly by eliminating human food sources that attract bears.
Center for Wildlife Information- www.centerforwildlifeinformation.org
Provides information on the latest safety techniques for hiking, camping and viewing and photographing wildlife.
Vital Ground Foundation- www.vitalground.org
Helps preserve the threatened grizzly bear, other animals, plants and natural communities through the conservation of habitat and wildlife linkage
areas.
International Association for Bear Research and Management- www.bearbiology.com
Promotes the conservation and restoration of the world's bears through science-based research, management and educati
Great Bear Foundation- www.greatbear.org
Dedicated to the conservation of the eight species of bears and their habitat around the world.
Living with Wildlife Foundation- www.lwwf.org
Provides information on bear resistant products and testing and living with predator's resource guides.
Wind River Bear Institute- www.beardogs.org
Working to save black and grizzly bears since 1996. Through their partners, they provide Bear Shepherding, an alternative available to save problem
bears from relocation and destruction.
Bow Valley WildSmart Community Program- www.wildsmart.ca
Encourages efforts by communities to reduce negative human – wildlife interactions. Their goal is to develop a coordinated approach to
education/outreach and support direct management activities that will aid public safety and sustainable wildlife populations.
Bear Wise Jackson Hole- www.jhwildlife.org
Works to reduce human and bear conflicts in Teton County.
International Union for Conservation of Nature (IUCN) www.iucn.org
Helps the world find pragmatic solutions to our most pressing environment and development challenges.
Wildlife Media: www.wildlifemedia.org
Grizzly Bear Outreach Project founder and co-director, Chris Morgan, and a small team of experienced (and award-winning) filmmakers, conservationists,
and businesspeople bring urgent wildlife conservation stories to the world through stunning imagery.
[/slider]