I have lived in the bear country of Issaquah Highlands since 2004. A community of 2,600 homes, Issaquah Highlands is located in the foothills of the Cascade Mountains where black bear, cougar, bobcat and deer wander. For these reasons, it's also a fascinating case study in an area where wildlife and people share habitat.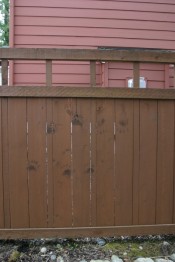 In 2007, I became aware of the black bears because of several bear sightings. On one sunny afternoon, my husband and I saw a bear wondering leisurely through our neighborhood park while riding our bikes. Another time we saw a bear behind our house in the greenbelt and then a bear jumped over our fence in the early morning to eat the grapes rotting in our yard waste bins. We quickly realized that simply storing our garbage, recycle and yard waste bin in the garage until the morning of garbage pick-up immediately solved the problem. The bears stopped coming.
These incidents motivated me to talk to my neighbors about ways to prevent attracting bears into our backyards. On a weekly basis, I took it upon myself to monitor bear activity in my community by taking photos of strewn garbage and mapping neighborhoods that had reported bear incursions. I also initiated a dialogue with the Issaquah Highlands Homeowners Association and the Board of Directors about the problems along with my closest ally and neighbor TK Panni. It was around this time that Chris Morgan of GBOP contacted me and offered help and resources.

Through GBOP I've been able to intensify my activities in the Issaquah Highlands and also expand my reach to include those who want to learn about grizzly bears as well. My area of focus for GBOP stretches from my backyard across I-90. What's good for black bears is good for grizzly bears, is good for people.
After attending many board meetings, monitoring black bear/garbage incursions for countless hours, gathering community support for regulatory change and lots of perseverance, our efforts finally paid off. At the December 2010 Board meeting, the Issaquah Highlands Board adopted the following rule and regulation change regarding the storage of garbage, recycling and yard waste bins:
Any trash (grey), recycling (blue), or yard waste (green) containers and/or bags must be stored indoors during non-pickup hours.
Trash cans may only be placed at the curb/street for pickup 12 hours prior to and 12 hours after pickup time.
The ARC will consider variance requests in accordance with the variance policy in section 4.5 of the CCR's under the following circumstances:

Topography
Natural Obstructions
Hardship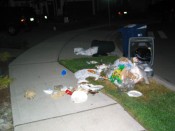 In addition to the rule change, we urged the Board to adopt the Bear Smart Best Practices which they did.  It provides many tips for people trying to prevent bears from accessing non-natural attractants in residential neighborhoods. Some of the recommendations include advice about not feeding birds when bears are active (you may be surprised that black sunflower seeds draw bears into yards from miles away), cleaning and storing barbecues after each use and only placing garbage or food smelling cans outside on the morning of garbage pick-up. Residents can access the best practices via the Rules and Regulations of Issaquah Highlands, on the Issaquah Highlands website or in our local newspaper.
By becoming Bear Smart, we can all learn to live safely with black and grizzly bears, encouraging bears to forage in the wild, away from human homes. One of GBOP's goals is to reduce human-bear conflicts. The passage of this rule in the Issaquah Highlands is an important step in that direction. It's also a great example of a community that cares enough to make a small change so that bears and people can thrive.
For tips on co-existing with bears, see the GBOP page