Lynn Okita
Board Chair
DuPont, WA
lynn@westernwildlife.org
Lynn Okita is a longtime wildlife enthusiast and advocate with a special interest in carnivores, and joined the board of Western Wildlife Outreach in 2020. She is a member of the Washington Department of Fish & Wildlife Wolf Advisory Group, and advocates for coexistence with wolves in a diverse stakeholder group representing conservationists, livestock producers, hunters, and outdoor recreationists. She is also a member of the Pacific Wolf Coalition Steering Committee and sits on the board of Washington Wildlife First. In the past, Lynn volunteered for Olympic Wildlife Rescue in western WA (now closed), and at the University of Alaska, Fairbanks, Large Animal Research Station where reindeer, caribou, and musk oxen are studied.
Lynn is a nurse practitioner and has been in the healthcare field for many years as a clinician, manager, and educator, and is currently practicing in an occupational health position. She has a Master of Science in Nursing degree from Pacific Lutheran University, a Business Organizational Management master's degree from the University of La Verne, and a post-master's Adult Primary Care Nurse Practitioner certificate from Duke University.
She lives in the South Puget Sound area with her husband and rescue Chihuahua/"pocket wolf," Maya. Her daughter and grandson live in central WA, so she travels there regularly, and enjoys the diversity of landscapes along the way.
Jane Hutchinson
Board Secretary
Olympia, WA
jane@westernwildlife.org
Jane has spent over thirty years working at local and state levels engaging grassroots groups in political processes. Since 2011, she has worked with citizen-science teams monitoring wildlife habitat and corridors in the South Coast Salish region helping to influence land use and wildlife management decisions. Written under contract with Western Wildlife Outreach, she is the primary author of  Living with Livestock and Wolves: A Review of the Literature (Nov 2014), and Towards A Bear Smart Future: Eastside King County Pilot Project(June 2016). She currently works as the Wildlife Program Director for Farmer Frog at their Paradise Farm location in Woodinville, WA — a human-black bear conflict hot spot – developing the "Bear With Me" Wildlife Friendly Farming Program.
Darrell Smith
Interim Executive Director, Science Advisor
Port Townsend, WA
darrell@westernwildlife.org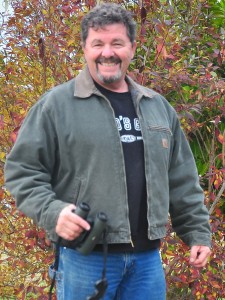 Darrell's boyhood years were in remote hard-rock mining towns surrounded by the wilderness and the mountains and Indian reservations of Idaho, Oregon and Washington. His family were pioneer ranchers loggers, and miners in Idaho, Oregon and here in Washington State. "We all hunted and fished our public lands and packed our game out on horseback." Darrell was fascinated by the brown and cinnamon and blonde-colored black bears he saw frequently in the forests  and berry thickets near his home. Cougar sightings were infrequent but regular. His pioneer grandfather once pointed out a large lone "timber wolf" watching from the tree line as they all watched a badger digging ground squirrels. All of this came together to form the roots and to cement his life-long fascination with carnivores — as well as all other wildlife.
After emerging mostly intact from the jungles of Southeast Asia as a 21-year-old Army Ranger sergeant and Long Range Reconnaissance Patrol ("LRRP") Team Leader and combat veteran, Darrell could hardly wait to put that all behind and entered college immediately. The G.I. bill put him through school.  He did his undergraduate work in Wildlife Biology at WSU, and his graduate work in Fisheries and Wildlife at the University of Washington. Thus, Darrell is a Ranger and a Coug and a Dawg. That combination has shaped his subsequent professional life.
For more than 30 years, he has worked as a professional wildlife and fisheries biologist and watershed steward and then principal wildlife habitat biologist and scientist and large carnivore biologist in the Pacific Northwest and in Central America.  Since the mid 1980s, he's had a personal and professional mission to study and to educate the public about our large, native carnivores. Darrell and his wife, WWO's Executive Director and biologist/ecologist Lorna Smith, have worked together in complementary positions for most of their careers and continue to do so now. They even spent their honeymoon finding, photographing and studying grizzly and black bears in B.C. Canada. Darrell now volunteers more than half of his time and effort to support WWO/GBOP as a wildlife biologist, large carnivore specialist and wildlife science advisor.
Michelle Jones
Board Member
Fall City, WA
Michelle grew up in the Cascade Foothills, and since childhood has spent much of her free time exploring, hiking, and camping in the outdoors. After moving into a rural home and promptly finding a bear in her driveway, she developed a trail camera hobby and soon began collecting footage from many areas in the Cascades. She has also done outreach in local communities about wildlife encounters and safety and has helped lobby to get more communities to offer bear resistant garbage cans. Michelle lives with her husband Kevin, her son Henry, and her dog Storm, and is thrilled to instill a passion for the outdoors in her son. When she has free time, she loves local trail walks and tracking and reading about wildlife and nutrition.
Chris Bachman
Board Member
Spokane, WA
As the Wildlife and Wildlands Director with the Kettle Range Conservation Group, Chris works to promote restoration of wildlife and native ecosystems as the paramount mission of public land management and to reduce livestock/wildlife conflict enhancing biodiversity and ecological resiliency. His work promotes prioritizing management for wildlife on our public lands, particularly wild roadless areas; and promotes conservation as the priority management policy for fish and wildlife.
Chris' spends his time working on large carnivore conservation, beaver conservation and public lands grazing policy. His field work is split between large carnivores, livestock grazing issues and promoting beaver restoration and conflict mitigation.
Chris works collaboratively with stakeholders, including ranchers, hunters, fisherman, non-profit organizations and government agencies promoting coexistence with wildlife and amongst stakeholder groups. Chris co-founded the Eastern Washington Wolf Coalition in 2016, and recently established the Western States Carnivore Alliance, a group dedicated to defending and restoring the gray wolf and all native carnivores throughout the West promoting governmental agency, policy and management reform using public education, science, activism and litigation.
Chris is a former middle school science and math teacher who left teaching to follow his passion advocating for wildlife. Chris completed undergraduate and graduate work in Evolutionary Biology at Southern Illinois University and also holds a Master's in Education from Whitworth University. Chris is a married father of two and enjoys hiking, backpacking and snow sports and is an experienced backcountry traveler and tracker.
Tim Coleman
Board Member
Republic, WA
Timothy Coleman has been active in the conservation of forest and water resources since 1971. He served his country during the Vietnam-era in the U.S. Navy. Timothy has served as director of the Kettle Range Conservation Group in rural Ferry County Washington since 1994, and worked as Conservation Northwest's campaign director of the Columbia Highlands Initiative from 2004 to 2011. He cofounded the Northeast Washington Forest Coalition, the Columbia Highlands Initiative and the Wild Washington Campaign that led to the passage of the Wild Sky Wilderness in 2008. Timothy's hobbies include mountaineering, skiing, white water rafting, hunting, fishing, gardening and carpentry.