—– Click on name to view individual bios —–
WWO TEAM
Chris Morgan – WWO/GBOP Founder
Lorna Smith WWO Executive Director 
Darrell Smith –   Wildlife Biologist, Senior Advisor, Large Carnivore Specialist


Board of Directors:
Lynn Okita – Board Chair
Jane Hutchinson  – Board Member
Amanda Smith – Board Member
Chris Morgan, Founder
WWO/GBOP Founder
Bellingham, Washington State
Contract Chris at Wildlife Media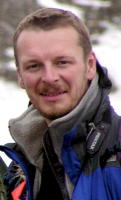 Ecologist Chris Morgan founded Western Wildlife Outreach in 2004 as the Grizzly Bear Outreach Project, focusing at that time on the rare North Cascades grizzly bear.  Chris is no stranger to adventure. Over the last 20 years he has worked as a wildlife researcher, wilderness guide, and environmental educator on every continent where bears exist. From icy polar bear country at 81° North to tropical Andean bear forests on the equator, Chris has sought adventure among the focus animals of his life – the bears of the world. Carnivore work has also taken him to the Canadian Rocky Mountains, Scotland, the Pakistani Himalayas, northern Spain, Turkey, Borneo, Siberia, and Alaska – destinations where his infectious enthusiasm for wild places and people has rubbed off on others.  WATCH FOR CHRIS'S NEWEST PROJECT,  "BEARTREK" WHICH WILL BE RELEASED IN THEATERS IN THE COMING MONTHS! You can see the original trailer at  BEARTREK    (UPDATE! BEARTREK was released in February, 2018 and is currently available on the Amazon Prime Video service!)
Chris has hosted TV productions for PBS, National Geographic Television, BBC, Discovery Channel, and has appeared on the Late Show with David Letterman. He is a familiar voice of the world-renowned television series PBS NATURE having narrated thirteen films since 2011 on topics ranging from lions to pelicans; the Australian outback to the Arctic tundra.
Chris teamed up with the creators and cameramen from Frozen Planet and Planet Earth in 'Great Bear Stakeout', a two-hour special co-produced by BBC and Discovery. Morgan is host, contributor, and bear guide in this unprecedented and visually stunning film about Alaskan grizzly bears.
Chris hosts and narrates the Emmy nominated film 'Siberian Tiger Quest', which premiered as PBS Nature's 2012/2013 season-opener. In this film, Chris embarks on a challenge to fulfill a lifelong dream – to find and film a Siberian tiger living wild and free in the forests of the far eastern Russian frontier. He was awarded "Best Host" by the International Wildlife Film Festival for his work. Chris received this same "Best Host" award a year earlier for his role in 'Bears of the Last Frontier', a PBS NATURE special he helped create. Chris is the featured character, host and narrator in this major three-hour mini-series that follows his 3,000-mile journey across Alaska by motorcycle in search of black, grizzly, and polar bears. Chris authored an accompanying book of the same title – a large format publication that showcases the experience, the bears, and behind-the-scenes insight and stunning photos from the production of the film.
Chris Morgan is executive director and co-founder of Wildlife Media – a non-profit conservation organization that oversees 'BEARTREK', a global campaign and independent feature documentary for bear conservation. This epic, big-screen film about a global natural history adventure brings untold stories of bears and colorful cultures in Borneo, Peru, Alaska, and the Arctic. In addition to documenting Chris's motorcycle conservation quest across three continents, BEARTREK is a giant experiment that brings a new approach to raising awareness and funding for conservation through a high-end theatrical film, a campaign, and a social media movement, changing hearts and minds along the way.
Chris is an accomplished and engaging public speaker and presenter. He spent several years as a frequent lecturer at Western Washington University's Huxley College of Environmental Science in Bellingham. He has a B.S. in Applied Ecology (East London, UK) and an M.S. in Advanced Ecology (Durham, UK.) In 2003 the Environmental Education Association of Washington honored Chris as Outstanding Environmental Educator of the year. In 2008 his contributions to grizzly bear conservation in the USA were honored with an award from the Interagency Grizzly Bear Committee, a government panel responsible for recovery of the great bear.
Chris guides expeditions to many locations around the world to introduce people firsthand to the wonders of wild places – often among grizzly bears and polar bears. He knows that conservation depends on people and if people don't see the connection between their own well-being and wildlife, then nothing will change. You will often hear Chris say, "What's good for bears is good for people." Chris has an acute sense of the power of media to bring hearts, minds, and resources towards conservation. As one of the most gregarious, personable, and good hearted larger-than-life scientists you'll ever meet, the response to his on-camera appearances has brought him incredible opportunities to promote the value of conservation for us all.
Chris spends much of his work, and playtime in the North Cascades mountains one hour from his home. Despite his varied activities within the realm of wildlife conservation, Chris says that he is never happier than when immersed in bear country – "the real world" as he calls it.
Lorna Smith

Executive Director
360-344-2008
Contact Lorna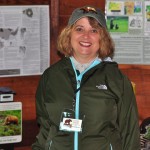 Lorna Smith has been Executive director of WWO since early 2012.  She is a 5th generation Washington native who grew up exploring the shores of Puget Sound and the Cascade and Olympic Mountains. Her family were avid campers, boaters  wildlife watchers fishers and sports hunters. These are interests which have stayed with her throughout her life. Lorna and her husband Darrell are a wildlife biologist/ecologist team and have spent their careers working on wetlands, streams, watershed, ecosystem and wildlife habitat issues, as well as endangered species management. We have both had a lifelong interest and experience in large carnivores. Darrell serves as a volunteer wildlife biologist, scientist and large carnivore specialist for WWO. Lorna has both headed up and served on the Board of Directors of a number of NW environmental organizations and has over 30 years of experience managing large conservation projects and campaigns, directing staff and over-seeing large scale contracts. She is experienced at building coalitions and fund-raising.
Lorna and Darrell returned to the Northwest after spending an exciting four years working on habitat projects and large carnivore issues in tropical Costa Rica tied to conservation of the Meso-American Biological Corridor and running a very successful ecotourism business.
"Throughout the western hemisphere, large carnivores and other mega-fauna are losing key habitat areas and corridors which provide connectivity and ensure genetic diversity. With the recent wide-spread use of radio-tracking, we now realize just how much habitat it takes for just one grizzly, one wolf or one jaguar to survive. I hope that my work as Executive Director of WWO will help to further the understanding of the specific habitat needs and behaviors of bears, wolves, cougars and other native carnivores, and how human communities can co-exist with them".
Darrell Smith
Wildlife Biologist, Science Advisor, Large Carnivore Specialist
Port Townsend, WA
360.344.2008

Contact Darrell
Darrell's boyhood years were in remote hard-rock mining towns surrounded by the wilderness and the mountains and Indian reservations of Idaho, Oregon and Washington. His family were pioneer ranchers loggers, and miners in Idaho, Oregon and here in Washington State. "We all hunted and fished our public lands and packed our game out on horseback." Darrell was fascinated by the brown and cinnamon and blonde-colored black bears he saw frequently in the forests  and berry thickets near his home. Cougar sightings were infrequent but regular. His pioneer grandfather once pointed out a large lone "timber wolf" watching from the tree line as they all watched a badger digging ground squirrels. All of this came together to form the roots and to cement his life-long fascination with carnivores — as well as all other wildlife.
After emerging mostly intact from the jungles of Southeast Asia as a 21-year-old Army Ranger sergeant and Long Range Reconnaissance Patrol ("LRRP") Team Leader and combat veteran, Darrell could hardly wait to put that all behind and entered college immediately. The G.I. bill put him through school.  He did his undergraduate work in Wildlife Biology at WSU, and his graduate work in Fisheries and Wildlife at the University of Washington. Thus, Darrell is a Ranger and a Coug and a Dawg. That combination has shaped his subsequent professional life.
For more than 30 years, he has worked as a professional wildlife and fisheries biologist and watershed steward and then principal wildlife habitat biologist and scientist and large carnivore biologist in the Pacific Northwest and in Central America.  Since the mid 1980s, he's had a personal and professional mission to study and to educate the public about our large, native carnivores. Darrell and his wife, WWO's Executive Director and biologist/ecologist Lorna Smith, have worked together in complementary positions for most of their careers and continue to do so now. They even spent their honeymoon finding, photographing and studying grizzly and black bears in B.C. Canada. Darrell now volunteers more than half of his time and effort to support WWO/GBOP as a wildlife biologist, large carnivore specialist and wildlife science advisor.