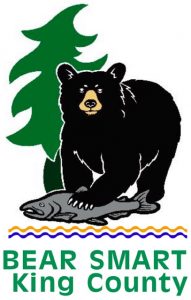 Have you ever had an encounter with a black bear or know someone who has?  Every year, thousands of times across the state of Washington, the paths of humans and bears cross as each goes about their daily routine.  In recent years, human-black bear encounters have risen as bears seeking out food sources are drawn into backyards and gardens by the aromas of calorie-rich garbage cans, compost piles, pet food and bird feeders.
To address this concern, Western Wildlife Outreach has teamed up with the Washington State Department of Fish & Wildlife to develop  Bear Smart King County — a new outreach program to help local communities stop or prevent human-wildlife conflicts, especially those with black bears. Through engaging presentations, informative brochures and the interactive Large Carnivore Education Trailer, WWO's wildlife biologists, naturalists and trained volunteers help communities take proactive steps to make sure that bears remain wild and people stay safe.
We will work with you to:
Conduct a "Bear Hazard Assessment" of your community, where ever it is – City, Farm, Business, Home – and recommend proactive steps to reduce bear conflicts and help with ongoing wildlife monitoring efforts to keep conflicts minimal.
Provide workshops on safe black bear coexistence techniques to keep bears in their own habitats.
Some "Bear Smart" program resources:
Printable Smart Flyer for Community Use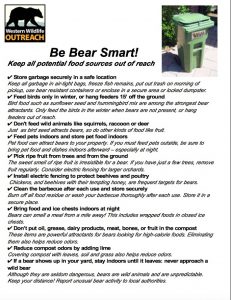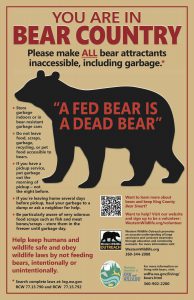 Bear Smart King County Report and Recommendations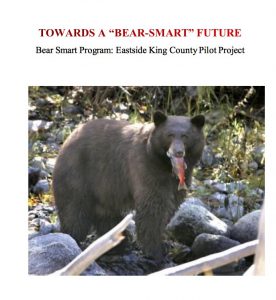 WWO's Founder, Chris Morgan 1:00 Minute PSA Video on Bear Safety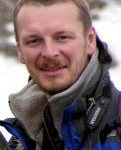 A video that focuses on understanding and coexisting with black bears and other carnivores   (14  minutes in length, suitable for classroom use and discussion
30-minute PowerPoint Presentation "What is a Carnivore?" is available upon request by emailing lynn@westernwildlife.org
"Black Bear Safety Brochure" and other materials may be ordered by contacting lynn@westernwildlife.org
Keep up with daily happenings through following King County Bear Smart on Facebook!

If you would like to have WWO install a kiosk of wildlife safety brochures, provide a presentation to your community group on the biology, ecology and behavior of the four large carnivores native to the Pacific Northwest, and steps to safely coexist with them,  or host an educational display and presentation at your event with the Large Carnivore Education Trailer, please e-mail lynn@westernwildlife.org for further information.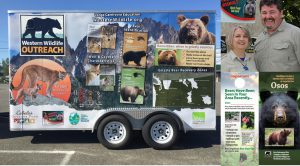 BEAR SMART KING COUNTY PARTNERS