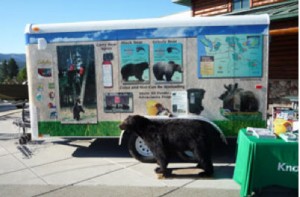 With its colorful and informative graphics outside, a taxidermy mount of a large black bear and other items inside and informative handouts on coexisting with large carnivores, the Northwest's Bear Education Trailer will visit downtown Bellingham on Sunday, February 17, as part of PBS Nature host, Chris Morgan's Chris Morgan Live: On the Wild Side at the Mount Baker Theater. Morgan's performance will include stunning images of his adventures with bears and other large carnivores found around the world, and will feature his conservation work on behalf of these endangered animals.
The bear trailer is staffed and managed by Western Wildlife Outreach in cooperation with the U. S. Fish and Wildlife Service. a non-profit organization founded by Morgan in 2002 to bring attention to the plight of bears and to inform and educate the public on how to coexist with bears and other large carnivores, including cougars and gray wolves.  The Bear Education Trailer was purchased by funds provided to the Interagency Grizzly Bear Committee for the North Cascades.  The exhibit is intended to heighten the public's interest and awareness in Grizzly bear recovery in the North Cascades, and to provide information on how to safely live, recreate and do business in bear country.
Washington is home to two species of bear; the grizzly bear and the black bear. While black bears are common, grizzly bears are very rare.  Black bears can be found throughout Washington's wooded areas including coastal rainforests, dry eastern slope woodlands, neighborhood greenbelts; and anywhere they can find forested cover and natural food sources. Washington's grizzly bears, on the other hand, are found in wild, remote areas of Washington such as the North Cascades, where as few as 20 bears may survive, and the Selkirk Ecosystem in northeastern Washington as well some of the wild areas between the two.
Information for reserving the Bear Education Trailer as well as tips for being "Bear Aware," and "Bear Smart" when camping, fishing, hiking recreating or simply living around bears and other carnivores, can be found on Western Wildlife Outreach's website:
www.WesternWildlife.org
Chris Morgan Live: on the Wild Side at the Mount Baker Theater Date: Feb 17th, 2013, 3:30 PM  Call 360-734-6080 for ticket information