See Western Wild Life Outreach's TV public service announcements for cougars and bears or see our Vimeo Channel

for other educational videos on bears, wolves, and cougars.
Cougar Safety TV Public Service Announcement
1:00 Cougars – Public Service Announcement from Western Wildlife Outreach on Vimeo
This 60 second Cougar TV PSA raises awareness about the remarkable cats and their important role in maintaining healthy ecosystems, while providing important safety tips for those living and recreating in cougar country. Funded by WildFutures and produced by Tri-Film Productions.
Special thanks to our sponsors on this video project: Woodland Park Zoo, Wilburforce Foundation, Mt. Baker-Snoqualmie National Forest, Okanogan/Wenatchee National Forest and WildFutures.
Listen to The Grizzly Bear Outreach Project's (predecessor to WWO) 60, 30, and 15 second radio Bear Smart PSAs. Co-Director Chris Morgan narrates the PSAs and informs residents that they can play an important role in reducing encounters by taking simple steps when living and recreating in bear country.
Bear Safety Videos
Washington Department of Fish and Wildlife – Preventing Conflict with Black Bears – 1:59
Many Washington communities are situated in the middle of bear country. Learn from an expert how to avoid attracting black bears into your back yard.
ABC News – Dogs Trained to Scare Off Wandering Bears – 4:53
With more black bears entering suburban neighborhoods around Seattle, wildlife agencies are looking for non-lethal methods to reduce conflicts between humans and bears. Watch this video to see how they are enlisting the help of Karelian Bear Dogs to discourage bears from coming into contact with residents.
Grandfather Mountain – Interactions With Wild Bears – 1:37
Tips on safe hiking from the staff at Grandfather Mountain, a nature preserve in the Blue Ridge Mountains of North Carolina.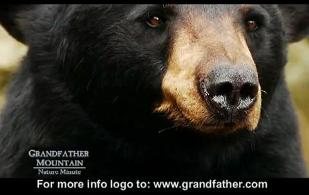 Bear Affair 2011 – Bears vs. Barbeque – 1:54
Fun video of Keema and Denali tearing apart a campsite.
Bear Affair 2010 – Backyard Setup – 9:56
This video covers how to keep bears out of your back yard, how to tell a black bear from a grizzly bear, and how a bear-resistant garbage container can discourage a 900-pound grizzly bear and prevent future visits.
Bear Affair 2010 – Campsite Setup – 9:49
Keema and Denali, two 900-pound grizzlies, show what can happen if you don't set up your campsite properly.
Bear Research
Surveying for grizzly bears in Washington's Pasayten Wilderness
Researchers from several state and federal agencies and research institutions are conducting surveys for rare grizzly bears in the North Cascades Ecosystem of Washington. The results of these efforts will help inform the recovery planning process for grizzlies.
Educational Bear Videos
PBS Nature – Bears of the Last Frontier
Bears of the Last Frontier is a three-part series about Alaska's grizzly, black and polar bears that aired on PBS Nature in May of 2011. The three episodes were created by Chris Morgan, co-Director of Grizzly Bear Outreach Project, and award-winning filmmaker, Joe Ponticorvo. Production of the series took two years, during which time Chris and Joe spent months in the wild backcountry of Alaska. They captured unbelievable footage that gets your heart racing, whether from the stunning Alaskan scenery or seeing the amazing power of wild bears.
You can stream the complete episodes for free from the PBS Nature website:
Bears of the Last Frontier Preview – Interview with Chris Morgan – 2:22
In this interview, Chris Morgan explains why he and Joe created this series and the impact they hope it will have on bear conservation.
Bears of the Last Frontier Preview – The Manhattan of Bear Country- 1:09
Find out what makes the Alaska Peninsula a unique location for the study of grizzly bears. There is no other place on earth with the concentration of bears and other conditions that allow this type of observation.
KCTS9 – Interview with Chris Morgan – 27:16
Chris Morgan talks about how he became interested in bears, and about the filming of Bears of the Last Frontier. (Be patient – it takes a while to load)
Watch the full episode. See more Conversations At KCTS 9.
Bear Sign Alaska – 2:32
Chris Morgan shares information about how to identify habitats that are likely to attract bears, shows a perfect grizzly bear track on an urban trail in Anchorage and shares some tips on how to stay safe in bear country.
National Park Service – Connecting with Carnivores – 5:11
Finding and monitoring bears in rugged Northwest parks has always been dicey. Today, through genetic testing, tufts of bear hair can tell scientists how many animals live in an area, how far they range, and how closely related they are to one another. In this video a National Park Service biologist demonstrates how to snag bear hair using innovative techniques that include barbed wire, high-tech cameras, and some really stinky scent lure.
Connecting with Carnivores from North Cascades National Park on Vimeo.
Washington State University – Key To Human Heart Disease Could Lie With Hibernating Grizzly Bears – 2:28
Washington State University cardiologists are studying the hearts of grizzly bears during hibernation to find cures for human heart disease.
Educational Gray Wolf Videos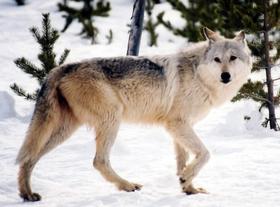 US Fish and Wildlife – Gray Wolf Video – 0:56
Hear wolves howl and watch footage of gray wolves in the wild. You can also find public domain images of gray wolves from the U.S. Fish and Wildlife Service website.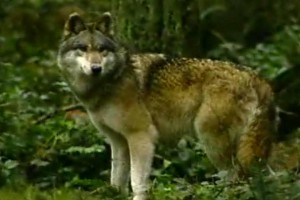 Green Fire Films – Lords of Nature Trailer – 2:59
Wolves and cougars, once driven to the edge of existence, are finding their way back — from the Yellowstone plateau to the canyons of Zion, from the farm country of northern Minnesota to the rugged open range of the West. LORDS OF NATURE: Life in a Land of Great Predators tells the story of science now discovering the great carnivores as revitalizing forces of nature, and a society now learning tolerance for the beasts they had once banished.
Capital Press Video – Managing Wolves in Washington – 7:10
Washington Department Fish and Wildlife representative Madonna Luers talks about the need for a wolf management plan for Washington State. Click on the image below for the video.
National Geographic – Wolves Vs. Grizzlies – 3:21
This video looks at the conflict between the two top predators in Yellowstone National Park. Even a pack of wolves finds a mother grizzly to be too much to handle. Click on the image below for the video.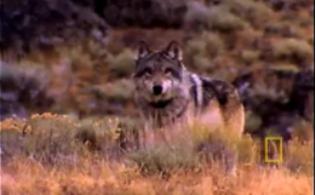 Educational Cougar Videos
National Geographic – Big Cats – Washington Cougars – 2:45
As more Washington neighborhoods are built in cougar habitat, interactions between humans and cougars will increase. This National Geographic piece highlights the challenges for cougars, ranchers, wildlife managers and citizens. Click on the image below for the video.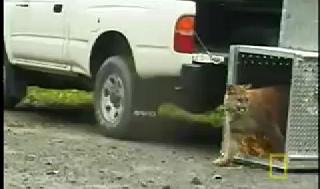 Big Cat Rescue – Cougar Species Spotlight – 4:52
This video is a short-course in cougar biology, using captive cats at the Big Cat Rescue center. Click on the image below for the video.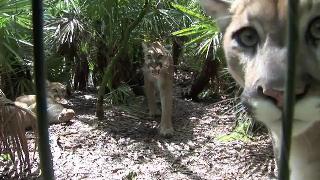 If you have suggestions for videos or sound files about grizzly bears, black bears, gray wolves or cougars that you think should be included on this page, please contact us.