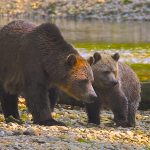 Author and Naturalist, Tim McNulty shares the comments he submitted in favor of Grizzly Bear Recovery in the North Cascades
February 24, 2014
Thanks for this opportunity to comment on your Draft Grizzly Bear Restoration Plan for the North Cascades ecosystem. I commend both agencies for putting forth a viable plan for returning the great bears to one of America's wildest ecosystems. I have camped, backpacked, climbed, worked, and taught in the North Cascades for more than 40 years. I enjoy not only the scenic beauty and biological richness of this area, I value its wildness. To me, wildness encompasses an intact, functioning ecosystem with its natural processes, native species, and interrelationships in place.
Grizzly bears have been a part of the ecosystem for millennia. I have no doubt that individual bears have been visiting the ecosystem from time to time, but establishing a viable population in the ecosystem will require intensive human intervention in the form of active reintroduction and monitoring.
Because I would like to see bears established there during my lifetime, I favor the expedited approach in Alternative D that would lead to a population of 200 bears in 25 years. A timely recovery would also enhance the long-term viability of the species in the United States at a time when the climatic future is an unknown.
Archeological evidence suggests that bears have been a focus of some of humankind's earliest religious rituals. When I have witnessed the presence of grizzlies in Alaska, British Columbia, and in Glacier National Park, I've felt a particular sense of awe that was both terrifying and thrilling. That feeling has been a part of human experience since the early Paleolithic. My experience of the North Cascades would be enhanced deeply by the mere presence of grizzlies in the mountains, basins and valleys, and the ecosystem would benefit by the return of its most dramatic missing element.
Since this issue has become polarized, and because of the war of extirpation that nearly eliminated grizzlies from the American West, I have to question the sentiment of some recreationists who demand a safe and sanitized environment in the wilderness of the North Cascades. There are ample walking, jogging, and biking trails available throughout the Northwest where the most dire threat may be an unleashed poodle. Let the wild Cascades be truly wild, unpredictable, and a little scary. It will sharpen our senses and hone our perceptions — as it has for our species since the beginning of our tenure on earth.
Bring back the great bears to the North Cascades while the land is still wild enough to have them!