Wildlife Wise Certificate to be Awarded to Farmer Frog
Where:

"Leap Like a Frog" Event at Paradise Farm, Paradise Valley Conservation Area, Woodinville, WA.

When:

June 09, 2018

Time:

2:00-7:00 PM, Certificate ceremony between 3:00-4:00

Cost:

Free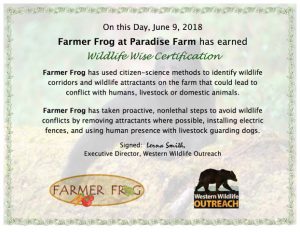 FOR IMMEDIATE RELEASE
June 8, 2018
Contacts: Lorna Smith, Executive Director, Western Wildlife Outreach
(425) 879-9708 lorna@westernwildlife.org
Zsofia Pasztor, Executive Director, Farmer Frog
(206) 210-5541, zsofia@farmerfrog.org
Farmer Frog awarded "Wildlife Wise" Certification
"Bear With Me" Wildlife Friendly Agriculture Program launches in Woodinville, WA
WOODINVILLE – Western Wildlife Outreach (WWO) is pleased to announce certification of Farmer Frog's Paradise Farm "Bear With Me" Wildlife Friendly Agriculture Program as "Wildlife Wise" according to the standards set out by the Bear Smart protocol developed in 2002 with the assistance of WWO's founder Chris Morgan.
"This partnership between Western Wildlife Outreach and Farmer Frog is a place to start providing outreach and education in eastern King and Snohomish counties regarding agriculture practices that will lead to better protection for wildlife and livestock across Washington state," said Lorna Smith, Executive Director of Western Wildlife Outreach.
According to data received by Western Wildlife Outreach from Washington Department of Fish & Wildlife, Woodinville is one of the highest areas in Washington state for enforcement officers to be called out to scenes of human-black bear conflict. These encounters are usually the result of bears being attracted by human provided food sources such as garbage cans, bird feeders, and fruit trees.
Farmer Frog's "Bear With Me" Program seeks to educate Washington residents about how to manage their farm or family garden without attracting unwanted wildlife visitors. Farmer Frog will be presented the certificate between 3-4 pm this Saturday at their "Leap like a Frog" event, June 9, 2:00-7:00pm at Paradise Farm, Paradise Valley Conservation Area, Woodinville, WA.

"While it is important to attract some wildlife to your garden or farm -such as birds, bees, and beneficial insects," states Zsofia Pasztor, co-Executive Director Farmer Frog, "We need to keep those animals out who could become a danger to people and themselves. If a bear gets used to ransacking farms for food, the bear is much more likely to be shot and killed than those bears who are deterred from farms and learn to stay in their own habitat spaces."
Over a two-year period (2016-2018), Farmer Frog staff and volunteers used citizen-science methods to identify wildlife corridors and attractants on the farm that could lead to conflict with humans, livestock or domestic animals. Volunteers placed camera traps, identified wildlife sign, interviewed individuals with local knowledge, and developed a plan of action.
This Spring, thanks in part to the support of UW Bothell engineering students, and Comcast who donated both funding and volunteer help, Farmer Frog completed the electric fencing around interior pastures, moved in the Caretakers (human presence), and hired the livestock guardian dogs Fergus and Sirius to protect the small livestock by deterring wildlife through their presence.
Since 2002 Western Wildlife Outreach has been active in Pacific Northwest communities promoting a science-based, understanding of the four large carnivores native to the region- black bear, grizzly bear, gray wolf and cougar. WWO provides information regarding the ecology and behavior of these species as well as the facts on the low level of risk associated with living and recreating in the same landscapes where large carnivores exist. WWO actively promotes nonlethal methods for deterring bears and other wildlife, in order to keep wildlife wild, and humans, their livestock and domestic animals safe.
Since 2009, Farmer Frog has provided programs that support people of all ages from diverse cultures, backgrounds, needs and living conditions by providing equal access to healthy, nutritious, safe and affordable food produced within their own communities while natural ecosystems and wildlife habitats are protected. Thank you for supporting this project. https://www.gofundme.com/farmerfroghiresfergus