Chronic wasting disease and hoof rot are two fatal diseases plaguing ungulate populations across the continent.  At least one study suggests that wolves may play an important role in helping to control against disease propagation in their selected prey species. 
J Wildl Dis. 2011 Jan;47(1):78-93.  The role of predation in disease control: a comparison of selective and nonselective removal on prion disease dynamics in deer.
Wild MA1, Hobbs NT, Graham MS, Miller MW.
In Washington State, could  recovering gray wolf   populations some day play a role in controlling the horrific spread of hoof rot disease in elk?  Western Wildlife Outreach encourages further research in this area.
In the meantime,  Western Wildlife Outreach urges our supporters to assist Washington Department of Fish and Wildlife in gathering data on the  spread of the disease by reporting all sightings or hunter-killed elk that demonstrate the presence of the disease, as shown in the following photos.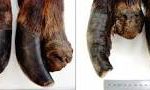 WDFW seeks reports of elk with hoof disease in Cascades
OLYMPIA – State wildlife managers are asking hunters, anglers, campers and others planning to spend time in the Cascade Mountains this fall to report any elk they encounter and pay close attention to see if any walk with a limp.
The volunteer project is part of a broad-based effort by the Washington Department of Fish and Wildlife (WDFW) to gauge the distribution of a debilitating bacterial hoof disease that has affected an increasing number elk in the lowland areas of southwest Washington in recent years.
Treponeme-associated hoof disease in elk is infectious, and can be spread among elk through exposure to the bacteria that is associated with the disease. The bacteria persist in soil, especially in wet, muddy conditions.
Brooke George, project coordinator for WDFW, said the new reporting system is designed to build on current information about where elk are seen in the Washington Cascades and to closely track the disease if it is found in new areas.
"Our goal is to monitor the outer edges of where the disease occurs, so we can respond to changes in its distribution more quickly," George said. "We appreciate any help people can give us in this effort."
Those interested in contributing to the project can pick up maps, reporting forms and instructions on how to fill them out at National Forest Service offices and visitor centers throughout the Washington Cascades. Participants can also report their observations online at http://wdfw.wa.gov/conservation/health/hoof_disease/
Maps and reporting forms are available at the following locations:
Mt. Baker-Snoqualmie National Forest
Darrington Ranger District Office
Mt. Baker Ranger District Office (Sedro-Wooley)
Glacier Public Service Center (Glacier)
Verlot Public Service Center (Granite Falls)
Skykomish Ranger District Office
Snoqualmie Ranger District (North Bend and Enumclaw)
Okanogan-Wenatchee National Forest
Cle Elum Ranger District Office
Naches Ranger District Office
Wenatchee River Ranger District Office (Leavenworth)
Gifford Pinchot National Forest
Fort Vancouver National Historic Site (Vancouver)
Mt. Adams Ranger District Office (Trout Lake)
Cowlitz Valley Ranger District Office (Randle)
Johnston Ridge Observatory (Hwy 504)
Mount St. Helens Volcanic National Monument
Monument Headquarters (Amboy)
Washington State Parks Visitor Center (Hwy 504)