Bear Fact of the Day
Grizzly bears are not territorial. They do not stake out and defend a well-defined area, but follow food availability. A food source that is rich in early spring often fizzles out by late spring, causing bears to move to other food sources. As a result, home ranges generally change from year to year. For more fun facts, click here.

Welcome and thank you for taking time to learn about grizzly and black bears! This year, Governor Gregoire declared May 20-26 "Bear Awareness Week" The week not only celebrates our state's bear heritage, but it's also an opportunity learn more about these wild creatures and how to live alongside them.
This page is filled with fascinating and sometimes little-known facts about Washington state's two bear species. For example, did you know that, during their winter sleep, grizzlies' heart rate drops from 98 beats per minute to about 8-10 beats per minute? Each day during Bear Awareness Week, we'll post an interesting new "Bear Fact of the Day."  So check back regularly.
Think you already know a lot about bears?
Test your knowledge with our on-line quiz and scorecard below.
Want to attend upcoming events about bears and other wildlife?
Then check out our  Events page.
Still looking for more information on bears, including printable materials?
Explore our product page, other GBOP webpages, or just read on.
Thanks again for visiting and we hope to see you again during Bear Awareness Week!
Governor's Proclamation & GBOP Release: Spreading the Word!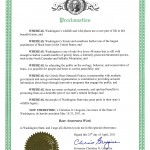 For the forth consecutive year, Governor Gregoire has officially established Bear Awareness Week here in Washington. Our thanks to the Governor for helping to spread the word about the importance of understanding bears. To enlarge, read, and/or print the official declaration, click on the image.
GBOP also issued its own press release about BAW.

Test Your Knowledge
How well do you know bears, especially grizzly and black bears? Take this 10-question quiz to see how you rate. Then, right or wrong, explore the answers. We guarantee you'll learn something new!
Click here to start the Bear Awareness Week Quiz.
Are you "bear smart" at home or are you unknowingly attracting wildlife, possibly creating a future conflict? Find out by answering our 15-question scorecard.
Download the Bear Attractant Scorecard here.
Visit the GBOP Events page to find more events.

Participating Businesses
Annie's Pizza, Concrete
Birdsview Brewery, Birdsview
Grahams Store, Glacier
Harvest Moon Bakery, Maple Falls
The Marblemount Drive-In
Nooksack Brewery, Demin
 
 
 


Bear Safety Brochure
Living with Bears in Washington State
(order only via Sharon Negri
For more materials and to download them, go to the GBOP Products page.